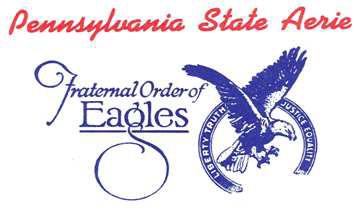 2023 - 2024 OFFICERS
Clinton Slima
Jr. PSP
New Brighton
Aerie #1342
JOSEPH BARGELLA
State President
Nanticoke

Aerie #834
DWAINE SHUPE
State Secretary
Blairsville

Aerie #1488
TED MINICH
State Treasurer
New Bethlehem
Aerie #1860
RAY ROBERTS
State Vice President
Vince Marino
Aerie #1634
ERIC HOOVER
State Trustee, 5th Year
Williamsport
Aerie # 970
MICHAEL DELIO
State Trustee, 4th Year
Falls Creek

Aerie #965
PATRICK LAUGHMAN
State Trustee, 3rd Year

Hanover

Aerie #1406
H. BUTCH SMITH JR.
State Trustee 2nd Year
Grove City

Aerie #1895
JOEL FROWNFELTER
State Trustee 1st Year

Carlisle

Aerie #1299
MIKE WHITE
State Chaplain
Falls Creek
Aerie #965
ERIC DAVIS
State Conductor
Ocean View
Aerie #4528
ERIC "RICK" CLINGER
State Inside Guard
Clarion
Aerie #3807
MARK BAHR
State Outside Guard
Carlisle
Aerie #1299
NED PENNAVARIA
State Membership Director
Tony Angelo
Aerie #01188
ROBERT P. WAHLS
Advisor to the State President
Carlisle
Aerie #1299
State Aerie
Eastern Regional
State Auxiliary
SPECIAL INFO
-------------------------
CHECK OUT THE NEW PAGE FOR "WHAT'S UP WITH THE AERIES"
-------------------------
KEYSTONE CONFERENCE LOTTERY TICKETS
Reminder everyone that if you have your lottery tickets sold for the October 31 drawing for the Keystone Conference, please get them turned in to me.
If you are having issues selling them and don't think you will get them sold, please get them turned in so we can hand them out to someone else who can sell them.
Thank you.
-------------------------
AL T. WILLIAMS MEMORIAL GOLF TOURNAMENT
SEPT 23, 2023
TONY ANGELO AERIE #01188
APPLICATION & HOTEL INFO CLICK HERE
-------------------------
2023 Ladies Fall Conference
September 15 & 16, 2023
Clarion Auxiliary
For Information and Registration
-------------------------
Indiana Aerie # 1468
Coats For Kids Fund Raiser
Bingo!!
September 24, &
November 5
For more information
-------------------------
2023 Eastern Regional Conference
October 14, 2023
Depew Aerie #2692
Depew New York
Cutoff Sept 29, 2023
For conference info, hotel info, and registration paper
-------------------------
2024 PA State Pool
Tournament
Clearfield Aerie #812
May 10-12, 2024
Registration and Hotel Info
KEEP IN YOUR THOUGHTS & PRAYERS
(We hope you keep all your brother & sister eagles in your prayers but those listed could use a little extra push!)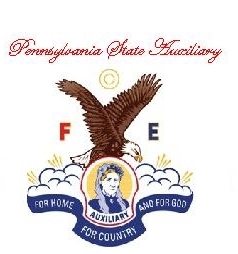 2023 - 2024 OFFICERS
BETTY LOU KALIN
Jr. PMSP
Kutztown

Auxiliary #839
JENNIFER FASER
Madam State President
TONY ANGELO

Auxiliary #1188
JEANNIE TRESSLER
State Secretary
Connelsville
Auxiliary #493
GENIE LUTSEO
State Treasurer
Bethlehem

Auxiliary #284
State Vice President
Warren

Auxiliary #313
REBECCA DELIO

State Trustee
Falls Creek

TAMMY FISHER
State Trustee
Carlisle
State Trustee
Connelsville
Auxiliary #493
TONYA BUMBAUGH
State Trustee
CHARRISE CLARK

State Chaplain
Blairsville

Auxiliary #1488
TAMMY HADDEN
State Conductor
Bethlehem

Auxiliary #284
LAURA BAYSINGER MINER
State Inside Guard
Connelsville
Auxiliary #493
State Outside Guard
Indiana
Aux #1468
Keri Steele
Membership Director