ATTENTION AERIE SECRETARIES YOU MUST DROP YOUR DELINQUENT MEMBERS BY NOVEMBER 30, 2O15 OR YOU WILL BE CHARGED A PER CAPITA OF $6.00 BY THE GRAND AND $1.00 BY THE STATE FOR EACH MEMBER
ON YOUR ROSTER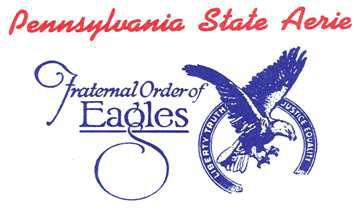 2015 - 2016 OFFICERS
DONALD MOFFITT
Jr. Past President
Carlisle Aerie #1299
THOMAS "JACK" SHIREY
State President
Clarion Aerie #3807
DONALD W. LUMADUE
State Vice President
Clearfield Aerie #812
DONALD L. HEARN
State Secretary
Waynesburg Aerie #598
TED MINICH
State Treasurer
New Bethlehem Aerie #1860
H. JAMES HINDERLITER
State Trustee, 5th Year
New Bethlehem Aerie #1860
STANLEY C. HILL
State Trustee, 4th Year
Hanover Aerie #1406
C. MICHAEL CLEPPER
State Trustee, 3rd Year
Carlisle Aerie #1299
TERRY LONGBERRY
State Trustee, 2nd Year
Meadville Aerie #429
JEREMY FRITS
State Trustee, 1st Year
Sunbury Aerie #503
CLINTON SLIMA
State Chaplain
New Brighton Aerie # 1342
JOSEPH BARGELLA
State Conductor
Nanticoke Aerie #834
RAY ROBERTS
State Inside Guard
Carrick Aerie #1520
ERIC HOOVER
State Outside Guard
Williamsport Aerie #970
MICHAEL DELIO
Membership Chairman
Falls Creek Aerie #965
TIMOTHY FINNERTY
Legal Adviser
Carnegie Aerie #1134
LIBERTY, TRUTH, JUSTICE, EQUALITY
THOMAS "JACK" SHIREY

PA STATE AERIE

PRESIDENT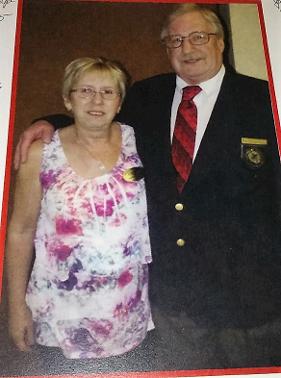 FOR HOME, FOR COUNTRY,
AND FOR GOD
CHRISTINE SHUPE

PA STATE AUXILIARY PRESIDENT
SPECIAL INFO
2016 PA STATE CONVENTION
DATE CHANGE
JUNE 10 & 11 2016
2016 STATE BOWLING TOURNAMENT
AT
GETTYSBURG AERIE
-----------------------------------
ANNUAL CHRISTMAS DONATIONS!!
----------------------------------
KEEP IN YOUR THOUGHTS & PRAYERS
(We ask that you keep all your brother & sister eagles in your prayers but those listed could use a little extra push.)
Ken Witt was was admitted to the
hospital on October 29, 2015 as 
he was not feeling well again.  
They discovered that there was 
some bleeding on the back of the
brain so he was transferred to 
Hershey Medical Center for 
further treatment.
 
UPDATE:
As of November 1, 2015 Ken is 
doing much better and is able to 
hold food down.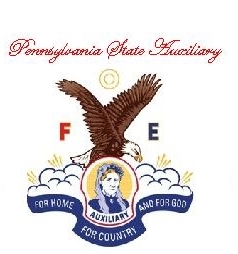 2015 - 2016 OFFICERS
ANDRIA SNELL
Jr. Past President
Oxford
Auxiliary #2666
CHRISTINE SHUPE
State President

Blairsville
Auxiliary #1488
JAN SHIREY
State Secretary
Clarion
Auxiliary #3807
JEANNIE TRESSLER
State Treasurer
Connelsville
Auxiliary #493
GENIE LUTSEO
State Vice President
Bethlehem
Auxiliary #284
DEBRA MCFERREN
State Trustee
Gettysburg

Auxiliary #1562
PATRICIA RODRIGUEZ
State Trustee
New Kensington
Auxiliary #533
SHIRLEY COSNER
State Trustee

Bethlehem
Auxiliary #284
BETH HOWELL
State Trustee

Tony Angelo
Auxiliary #01188
JUDY LAUGHMAN
State Chaplain

Hanover

Auxiliary #1406
BETTY LOU KALIN
State Conductor
Kutztown

Auxiliary #839
SHIRLEY MOFFITT
State Inside Guard
Carlisle
Auxiliary #1299

JENNIFER FASER
State Outside Guard
Blairsville
Auxiliary #1488