IMPORTANT NOTICES
THE FAX NUMBER ON THE STATE CONVENTION FORM IS INCORRECT. THIS IS THE CORRECT NUMBER FOR DOUBLE TREE BY HILTON (412) 922-8981
ALSO THE DATE FOR THE PA STATE AERIE GOLF TOURNAMENT WAS INCORRECT IT'S SEPT 9,2017 WITH ENTRIES TO BE IN BY SEPT 1, 2017. THE REGISTRATION FORM HAS BEEN CORRECTED.
STATE BOWLING TOURNAMENT RESULTS ARE NOW POSTED YOU CAN GET YOUR COPY BELOW IN SPECIAL INFO SECTION
YOU CAN GET BOTH CONVENTION AND GOLF FORMS BELOW IS SPECIAL INFO SECTION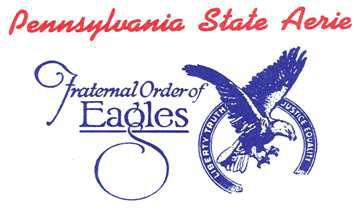 2016 - 2017 OFFICERS
THOMAS"JACK"
SHIREY
JRPSP

Clarion Aerie
#3807
DONALD W LUMADUE State President
Clearfield Aerie

#812
H JAMES HINDERLITER StateVice-President NewBethlehem
Aerie#1860
DWAINE SHUPE
State Secretary
Blairsville Aerie #1488

TED MINICH

StateTreasurer

NewBethlehem
Aerie#1860
STANLEY C HILL StateTrustee,5th Year HanoverAerie
#1406
C. MICHAEL CLEPPER

State Trustee,4th Year

Carlisle Aerie
#1299
TERRY LONGBERRY StateTrustee,3rd Year MeadvilleAerie
#429
JEREMY FRITS StateTrustee,2nd Year SunburyAerie
#503
CLINTON SLIMA StateTrustee,1st Year NewBrighton Aerie
#1342
JOSEPH BARGELLA StateChaplain

Nanticoke Aerie
#834
RAY ROBERTS StateConductor

CarrickAerie
#1520
ERIC HOOVER StateInsideGuard

Williamsport Aerie

#970
MICHAEL DELIO StateOutsideGuard FallsCreekAerie
#965
TIMOTHY FINNERTY
Legal Adviser
Carnegie Aerie

#1134
LIBERTY, TRUTH, JUSTICE, EQUALITY
Donald Lumadue
PA STATE AERIE PRESIDENT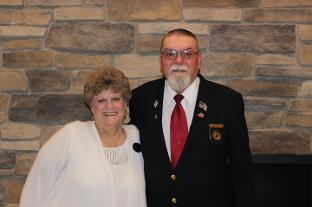 FOR HOME, FOR COUNTRY,
AND FOR GOD
Genie Lutseo
PA STATE AUXILIARY PRESIDENT
STATE AERIE
STATE AUXILIARY
May
SPECIAL INFO
STATE BOWLING TOURNAMENT RESULTS
-----------------------------
2017
PA STATE GOLF
TOURNAMENT
APP & HOTEL
GET IT HERE
-----------------------------

PA STATE POOL
TOURNAMENT
WILLIAMSPORT AERIE #970
MAY 5 - 7 2017
APPLICATION AND HOTEL INFO
-----------------------------

2017
PA STATE AERIE CONVENTION
JUNE 8,9,10
CONVENTION FORM HERE

--------------------------
2017
PA STATE AUXLILARY
CONVENTION
FORM HERE
--------------------------
KEEP IN YOUR THOUGHTS & PRAYERS
(We hope you keep all your brother & sister eagles in your prayers but those listed could use a little extra push.)
LARRY LUTSEO passed away. Please keep Genie and the family in your prayes. Larry funeral will be thursday 4/20 from 1 to 3 pm will be a visitation and at 3 will be the service. Larry's funeral will be at
Cantelmi Long Funeral Home
500 Linden St
Bethlem, PA 18018
610-866-8059

PAUL VOIGHT husband of Sue Voight PMP past away. Cards can be sent to:
282 FONNER RD.
PROSPERITY, PA 15329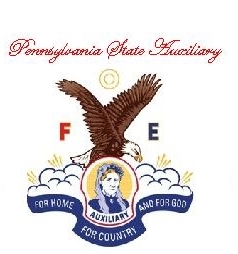 2015 - 2016 OFFICERS
Christine Shupe
Jr. Past President
Blairsville auxiliary #1488
Genie Lutseo
State President
Bethlem Auxiliary #284
Jan Shirey
State Secretary
Clarion
Auxiliary #3807
Jeannie Tressler
State Treasurer
Connelsville
Auxiliary #493
Beth Howell
State Vice President
Tony Angelo
Auxiliary #01188
Debra Mcferren
State Trustee
Gettysburg
Auxiliary #1562
Patricia Rodriguez
State Trustee
New Kensington
Auxiliary #533
Shirley Cosner
State Trustee
Bethlehem
Auxiliary #284
Judy Laughman
State Trustee
Hanover
Auxiliary #1406
Betty Lou Kalin
State Chaplain
Kutztown
Auxiliary #839
Shirley Moffitt
State Conductor
Carlisle
Auxiliary #1299
Jennifer Faser
State Inside Guard
Blairsville
Auxiliary #1488
Patricia Malone
State Outside Guard
Warren
Auxiliary #313