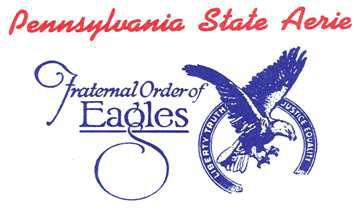 2019 - 2020 OFFICERS
STANLEY C HILL SR.

Jr. P.W.S.P.
Hanover

Aerie #1406
C. MICHAEL CLEPPER

State President
Carlisle
Aerie #1299

DWAINE SHUPE
State Secretary
Blairsville

Aerie #1488

TED MINICH

State Treasurer

New Bethlehem

Aerie #1860
TERRY LONGBERRY
State Vice President

Meadville

Aerie #429
JEREMY FRITZ
State Trustee,5th Year
Sunbury

Aerie #503
CLINTON SLIMA
State Trustee,4th Year
New Brighton
Aerie #1342
JOSEPH BARGELLA
State Trustee,3rd Year
Nanticoke
Aerie #834

RAY ROBERTS

State Trustee,2nd Year

Carrick

Aerie #1520

ERIC HOOVER

State Trustee,1st Year Williamsport
Aerie #970




MICHAEL DELIO


State Chaplain
Falls Creek Aerie #965

PATRICK "STEVE" LAUGHMAN

State Conductor
Hanover
Aerie #1406
H "Butch" Smith Jr

State Inside Guard

Meadville

Aerie #429
JOEL FROWNFELTER

State Outside Guard
Carlisle

Aerie #1299
TIMOTHY FINNERTY
Legal Adviser
Carnegie

Aerie #1134
Robert P Wahls

State Membership Chairman
Carlisle

Aerie #1299

LIBERTY, TRUTH, JUSTICE, EQUALITY
C MICHAEL CLEPPER

PA STATE AERIE PRESIDENT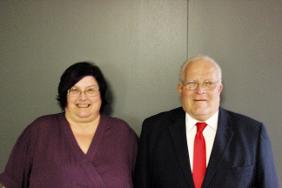 FOR HOME, FOR COUNTRY,
AND FOR GOD
DEBRA MCFERREN

PA STATE AUXILIARY PRESIDENT
STATE AERIE
State Auxiliary
SPECIAL INFO
-------------------------
THE JOINT TESTIMONIAL HAS BEEN POSTPONED TO MAY 16, 2020
UPDATED TICKET INFO & ORDERING & HOTEL

----------------------

Brothers & Sisters,
The last few weeks have been unlike any we have seen before due to the coronavirus crisis and as we continue to abide by the orders of our respective States and Provinces, we know that many of you have important questions about operations moving forward.
One of the primary concerns is in regard to local Aerie and Auxiliary Elections. Per the Grand Aerie Constitution & Statutes, Nominations are to be held annually at the last meeting in April. Obviously, this will not be possible for the majority of our Aeries and Auxiliaries this year.
Those that are still able to meet must proceed as outlined in the Constitution & Statutes. Those that cannot meet, by order of the Grand Worthy President, should proceed in the following manner:
First meeting after re-opening: Nomination of Officers
Second meeting after re-opening: Election of Officers
At least 5 days after Elections: Installation of Officers
In the event a local Aerie or Auxiliary would like to expedite this process, they may do so only by following the Constitutional requirements regarding holding a Special Meeting, found in Section 72.2.
The format and voting time for your elections must follow what is outlined in your local Aerie or Auxiliary by-laws. All current officers will remain in their respective offices until your successor is duly elected and installed.
We've also received many questions and concerns regarding upcoming dues. The Grand Aerie has made the decision to cover the cost of the first dues reminder that is being sent out to all members who still have yet to renew. Local Aeries and Auxiliaries will NOT be charged anything for the first reminders.
At this point, the Grand Aerie remains committed to the May 31 dues deadline, with a 30 day grace period extending until June 30, and we will continue to monitor the situation in the coming weeks as things progress.
Lastly, we've heard from many people about the various small business loans being offered on the state and federal level in the wake of this crisis. We want to remind everyone to follow the word of the Constitution and Statutes regarding obtaining any financial assistance as an Aerie or Auxiliary, which means you would need the approval of your membership.
We know nothing about this delicate time is easy. Several of our fellow brothers and sisters have fought and continue to fight the coronavirus. Many more continue to serve on the front lines as doctors, nurses, first responders, etc., to protect and heal those fighting the virus.
To all, we hope you and your families remain safe throughout this time and we can't wait to see you all on the other side of this, stronger than we've ever been.
Fraternally,
The Fraternal Order of Eagles Board of Grand Trustees
Carl Burnett, Chairman
Ron Malz, Grand Worthy President
-------------------------------------------------------------

Brothers,

Just to keep all updated:
At this current time there are no definitive plans to cancel any sporting events or the convention.

The Pa. State Aerie Executive Board will continue to monitor the growing concerns and spread of Covid-19. We will be watching any and all recommendation's or mandates (should it become that) from the Governor and the Pa. Dept. of Health and the CDC that may be coming out as this situation expands. Rest assured that the safety of our Brothers & Sister's are paramount and should we feel that cancellation of any event is in the best interest of the safety for all we will be notifying all Aerie's via email, social media and the State Aerie Website.

A reminder to all of you - continue to take precautions and help reduce the spread of this virus.

Keep safe & healthy

C. Michael Clepper

Pa. State President

Dwaine Shupe

Pa. State
----------
Carlisle Aerie #1299

The FOE PA State Pool Tournament is moved from May 1, 2, 3 to August 21,22,23 of 2020. This is necessary due to recent events relating to the coronavirus. Anyone needing a refund that has mailed in an application should contact Mark Bahr, Secretary at 717-249-2711 by May 31, 2020, Thank you.
UPDATED FORMS & HOTEL INFO
------------------------
UPDATED BOWLING

TOURNAMENT
From Amy at EDGEWOOD LANES

Extended dates for state bowling tournament:
Every Friday nite starting May 15 thru August 30 there will be a 5pm squad for either doubles/ singles or team.
And every Saturday and Sunday thru August 30th I will run Saturday squads at 9-1-5 and Sunday squads at 9-1pm.
No squads will be available the weekends of June 12 - 13-14 or July 3-4-5.
If anyone wants to bowl during the week I can make that happen too. I am very flexible with times and dates and will make every effort to accommodate you.
All you have to do is contact me at 717-334-6845 to pick a new date and time

Remember We are Eagles- We stand strong- and we will have our 2020 state bowling tournament. Love to you all and stay safe. Amy( mom from Edgewood Bowl)
2020 PA STATE BOWLING TOURNAMMENT
GETTYSBURG AERIE #1562
INFORMATION AND REGISTRATION
-------------------------
The Dart Tournament scheduled to start April 17 has been indefinitely postponed. When the Governor has lifted the emergency we will try and finalize a date. For any questions please contact Rick Secrest or Eric Barnes and they will get back with you.
KEEP IN YOUR THOUGHTS & PRAYERS
(We hope you keep all your brother & sister eagles in your prayers but those listed could use a little extra push.)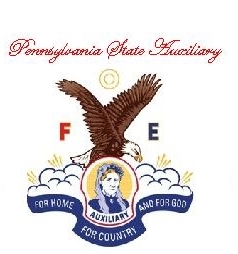 2019 - 2020 OFFICERS
Shirley Cosner

JR. PMSP
Bethlehem

Auxiliary #284
Debra McFerren

State President
Gettysburg
Auxiliary #1562
Jeannie Tressler
State Secretary
Connelsville
Auxiliary #493
Genie Lutseo
State Treasurer
Bethlehem

Auxiliary #284
Patricia Rodriguez

State Vice President
New Kensignton

Auxiliary #533
Judy Laughman

State Trustee
Hanover

Auxiliary #1406
Betty Lou Kalin

State Trustee
Kutztown

Auxiliary #839
Jennifer Faser

State Trustee
Tony Angelo

Auxiliary #01188
Patricia Malone
State Trustee
Warren
Auxiliary #313
Angel Baysinger

State Chaplain

Connelsville
Auxiliary #493
Rebecca Delio
State Conductor

Falls Creek
Auxiliary #965
Tammy Fisher

State Inside Guard

Carlisle

Auxiliary #1299
Patricia Frownfelter

State Outside Guard

Carlisle
Auxiliary #1299
Carole Eppley
State Membership Chairman
Hanover
Auxiliary #1406