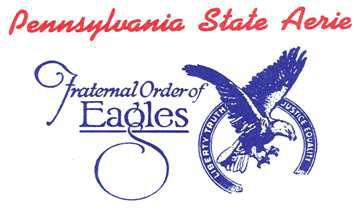 2019 - 2020 OFFICERS
STANLEY C HILL SR.

Jr. P.W.S.P.
Hanover

Aerie #1406
C. MICHAEL CLEPPER

State President
Carlisle
Aerie #1299

DWAINE SHUPE
State Secretary
Blairsville

Aerie #1488

TED MINICH

State Treasurer

New Bethlehem

Aerie #1860
TERRY LONGBERRY
State Vice President

Meadville

Aerie #429
JEREMY FRITZ
State Trustee,5th Year
Sunbury

Aerie #503
CLINTON SLIMA
State Trustee,4th Year
New Brighton
Aerie #1342
JOSEPH BARGELLA
State Trustee,3rd Year
Nanticoke
Aerie #834

RAY ROBERTS

State Trustee,2nd Year

Carrick

Aerie #1520

ERIC HOOVER

State Trustee,1st Year Williamsport
Aerie #970




MICHAEL DELIO


State Chaplain
Falls Creek Aerie #965

PATRICK "STEVE" LAUGHMAN

State Conductor
Hanover
Aerie #1406
H "Butch" Smith Jr

State Inside Guard

Meadville

Aerie #429
JOEL FROWNFELTER

State Outside Guard
Carlisle

Aerie #1299
TIMOTHY FINNERTY
Legal Adviser
Carnegie

Aerie #1134
Robert P Wahls

State Membership Chairman
Carlisle

Aerie #1299

LIBERTY, TRUTH, JUSTICE, EQUALITY
C MICHAEL CLEPPER

PA STATE AERIE PRESIDENT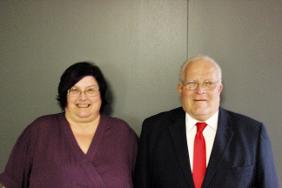 FOR HOME, FOR COUNTRY,
AND FOR GOD
DEBRA MCFERREN

PA STATE AUXILIARY PRESIDENT
STATE AERIE
State Auxiliary
SPECIAL INFO
-------------------------
Brothers:
This is to inform all that due to the Corona Virus Pandemic and the safety of all of our members along with the
L

istening to our governor talking about three (3) phases for opening the State, we could go to yellow sometime in May but that would only allow for gatherings up to 25 people. After that is takes at least two (2) weeks without any increase in cases to even think about going to green and we do not know what limits will be placed on us then. The Executive Board has voted to cancel the 2020 Convention. Per Section 11.4 of the Pa. State Bylaws and in accordance with the Governors mandates, the Executive Board will meet as soon as it is possible to handle the affairs of the State.
Please be sure to reach out to the hotels to confirm cancellation of your rooms. If any Aerie was hosting a Hospitality Room be sure you cancel that as well. Those who have already sent in registration will be refunded all monies.
Other Notes:
1. State President's Mike Clepper & Deb Mcferren have cancelled their joint testimonial dinner and will be contacting anyone who has sent in dinner reservations concerning a refund. Please remember to cancel any hotel reservations that you have made for this event as well.
2. If you had any one in your respective Aerie's that was planning on running for State Office this year,
PLEASE
inform them to get their letter into the State Aerie Office by
June 1
, 2020 send to: Pa. State Aerie P.O. Box 799 Latrobe, Pa. 15650
3. Before the arrival of Covid-19 and the ultimate shutdown that hit us all, if you had or have any donations for Worthy State President Mike Cleppers Charity (Gitlen Cancer Research Center) please send them into the State Aerie Office - make checks payable to FOE Charity Foundation and in the memo put : State Presidents Fund
Dwaine Shupe

Pa. State Secretary
---------------------
Do to the uncertainty of the state of affairs because of the corona virus pandemic and

foremost

the safety of our members the Executive Board has taken the stance that all Sports Events including the Bowling, Dart, Pool and Golf Tournaments have been cancelled for the 2020 season. Those who were hosting these events will be in touch with any group that has already registered to participate. The Aerie's that were to host these events this year will have the opportunity to host them in 2021 and any Aerie's that were awarded these events in 2021 will be moved to 2022 unless the Aerie that was to host this year declines to hold it in 2021.
Apologize for any inconvenience this may have caused but

the safety of our members was paramount in the decision made.
Dwaine Shupe Pa. State Secretary
C. Michael Clepper Pa. State President
---------------------

Brothers & Sisters,
The last few weeks have been unlike any we have seen before due to the coronavirus crisis and as we continue to abide by the orders of our respective States and Provinces, we know that many of you have important questions about operations moving forward.
One of the primary concerns is in regard to local Aerie and Auxiliary Elections. Per the Grand Aerie Constitution & Statutes, Nominations are to be held annually at the last meeting in April. Obviously, this will not be possible for the majority of our Aeries and Auxiliaries this year.
Those that are still able to meet must proceed as outlined in the Constitution & Statutes. Those that cannot meet, by order of the Grand Worthy President, should proceed in the following manner:
First meeting after re-opening: Nomination of Officers
Second meeting after re-opening: Election of Officers
At least 5 days after Elections: Installation of Officers
In the event a local Aerie or Auxiliary would like to expedite this process, they may do so only by following the Constitutional requirements regarding holding a Special Meeting, found in Section 72.2.
The format and voting time for your elections must follow what is outlined in your local Aerie or Auxiliary by-laws. All current officers will remain in their respective offices until your successor is duly elected and installed.
We've also received many questions and concerns regarding upcoming dues. The Grand Aerie has made the decision to cover the cost of the first dues reminder that is being sent out to all members who still have yet to renew. Local Aeries and Auxiliaries will NOT be charged anything for the first reminders.
At this point, the Grand Aerie remains committed to the May 31 dues deadline, with a 30 day grace period extending until June 30, and we will continue to monitor the situation in the coming weeks as things progress.
Lastly, we've heard from many people about the various small business loans being offered on the state and federal level in the wake of this crisis. We want to remind everyone to follow the word of the Constitution and Statutes regarding obtaining any financial assistance as an Aerie or Auxiliary, which means you would need the approval of your membership.
We know nothing about this delicate time is easy. Several of our fellow brothers and sisters have fought and continue to fight the coronavirus. Many more continue to serve on the front lines as doctors, nurses, first responders, etc., to protect and heal those fighting the virus.
To all, we hope you and your families remain safe throughout this time and we can't wait to see you all on the other side of this, stronger than we've ever been.
Fraternally,
The Fraternal Order of Eagles Board of Grand Trustees
Carl Burnett, Chairman
Ron Malz, Grand Worthy
KEEP IN YOUR THOUGHTS & PRAYERS
(We hope you keep all your brother & sister eagles in your prayers but those listed could use a little extra push.)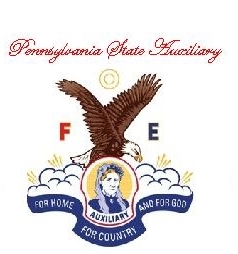 2019 - 2020 OFFICERS
Shirley Cosner

JR. PMSP
Bethlehem

Auxiliary #284
Debra McFerren

State President
Gettysburg
Auxiliary #1562
Jeannie Tressler
State Secretary
Connelsville
Auxiliary #493
Genie Lutseo
State Treasurer
Bethlehem

Auxiliary #284
Patricia Rodriguez

State Vice President
New Kensignton

Auxiliary #533
Judy Laughman

State Trustee
Hanover

Auxiliary #1406
Betty Lou Kalin

State Trustee
Kutztown

Auxiliary #839
Jennifer Faser

State Trustee
Tony Angelo

Auxiliary #01188
Patricia Malone
State Trustee
Warren
Auxiliary #313
Angel Baysinger

State Chaplain

Connelsville
Auxiliary #493
Rebecca Delio
State Conductor

Falls Creek
Auxiliary #965
Tammy Fisher

State Inside Guard

Carlisle

Auxiliary #1299
Patricia Frownfelter

State Outside Guard

Carlisle
Auxiliary #1299
Carole Eppley
State Membership Chairman
Hanover
Auxiliary #1406