IF YOU DOWNLOADED THE 2018 E.REGIONAL INFO AND REGISTRATION BEFORE MARCH 12 PLEASE DOWNLOAD THE UPDATED VERSION. THE PREVIOUS VERSON HAVE A MISPRINT. WE APOLOGIZE FOR ANY ISSUES THIS MAY HAVE CAUSED.
UPDATED 2018 EASTERN REGIONAL CONFERENCE INFORMATION AND REGISTRATION UPDATED 3-12-2018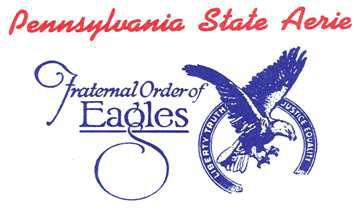 2017 - 2018 OFFICERS
DONALD W LUMADUE
JRPSP

Clearfield Aerie
#812


H JAMES HINDERLITER
State President

New Bethlehem Aerie
#1860
STANLEY C HILL
State Vice-President
Hanover Aerie
#1406
DWAINE SHUPE
State Secretary
Blairsville Aerie

#1488

TED MINICH

StateTreasurer

New Bethlehem Aerie
#1860
C. MICHAEL CLEPPER
StateTrustee,5th Year

Carlisle Aerie
#1299

TERRY LONGBERRY
State Trustee,4th Year
Meadville Aerie
#429

JEREMY FRITS
StateTrustee,3rd Year
Sunbury Aerie
#503

CLINTON SLIMA
StateTrustee,2nd Year
New Brighton Aerie
#1342
JOSEPH BARGELLA
StateTrustee,1st Year

Nanticoke Aerie
#834
RAY ROBERTS


State Chaplain


Carrick Aerie

#1520





ERIC HOOVER


State Conductor
Williamsport Aerie


#970

MICHAEL DELIO
State Inside Guard
Falls Creek Aerie
#965
PATRICK "STEVE" LAUGHMAN

State Outside Guard

Hanover Aerie
#1406
TIMOTHY FINNERTY
Legal Adviser
Carnegie Aerie

#1134
LIBERTY, TRUTH, JUSTICE, EQUALITY
H James Hinderliter

PA STATE AERIE PRESIDENT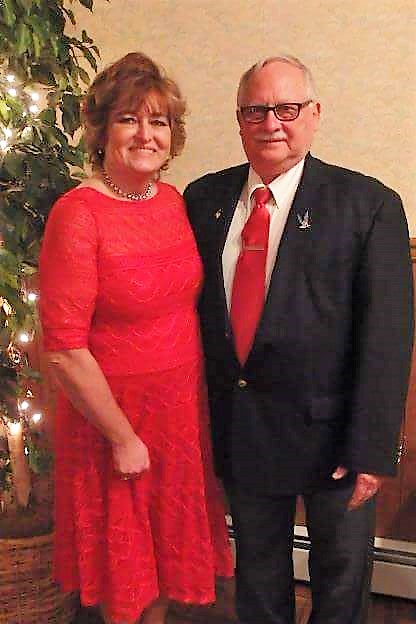 FOR HOME, FOR COUNTRY,
AND FOR GOD
Beth Howell

PA STATE AUXILIARY PRESIDENT
STATE AERIE
State Auxiliary
SPECIAL INFO
-----------------------------
PA STATE CONVENTION
GETTYSBURG, PA
JUNE 7 - 9
Attention all Aerie members. The Aerie meetings, registration and so forth are on the Eisenhower side of the hotel. You are encouraged when calling to make reservations that you ask for the Eisenhower side to be closer to those things
The Auxiliary will be on the Aspire side of the hotel and should request that side when requesting rooms. Information is in the current Aerie's State Newsletter
For information click here
2018 State Convention Hospitality Room Reservation Application
-----------------------------

2018 PA STATE
POOL TOURNAMENT
AT AERIE 2226
LITTLESTOWN
FOR INFO & REGISTRATION
----------------------------
2018 Bowling Tournament
Information & Registration
click Here
------------------------------
2018 Pa State Auxiliary Grant
Request Letter
& Application
form click here
------------------------------
2018 Pa State
Golf Tournament
Sept 8, 2018
@ Ford City

Info

KEEP IN YOUR THOUGHTS & PRAYERS
(We hope you keep all your brother & sister eagles in your prayers but those listed could use a little extra push.)
P.s.P. James Clark passed away on 3/28/2018. Please keep his family in your prayers.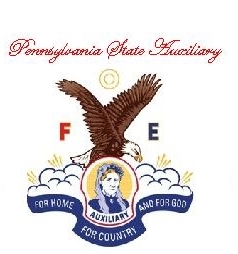 2017 - 2018 OFFICERS
Christine Shupe
Jr. Past President
Blairsville
Auxiliary #1488

Beth Howell
State President
Tony Angelo
Auxiliary #01188
Jeannie Tressler
State Secretary
Connelsville
Auxiliary #493
Genie Lutseo
State Treasurer
Bethlem
Auxiliary #284

Shirley Cosner
State Vice President
Bethlehem
Auxiliary #284
Debra Mcferren
State Trustee
Gettysburg
Auxiliary #1562
Patricia Rodriguez
State Trustee
New Kensington
Auxiliary #533
Judy Laughman
State Trustee
Hanover
Auxiliary #1406
Betty Lou Kalin
State Trustee
Kutztown
Auxiliary #839
Shirley Moffitt
State Chaplain
Carlisle
Auxiliary #1299

Jennifer Faser
State Conductor
Blairsville
Auxiliary #1488

Patricia Malone
State Inside Guard
Warren
Auxiliary #313
Angel Baysinger

State Outside Guard
Connelsville
Auxiliary #493