The Grand Aerie has posted the following notice regarding submission of members' dues: (Dues must be paid no later than May 31, 2022)
Greetings Brothers and Sisters,
The dates have been set to pull the list of the Members for the Dues Reminders to be sent to the Printer. These lists will be generated in the morning so please have all payments posted as early as possible. They are as follows:
• March 28, 2022
• April 25, 2022
• May 26, 2022
Unfortunately, there will undoubtedly be some payments that cross in the mail with the Reminders. This cannot be avoided and we apologize in advance. Please convey our apologies to the Members.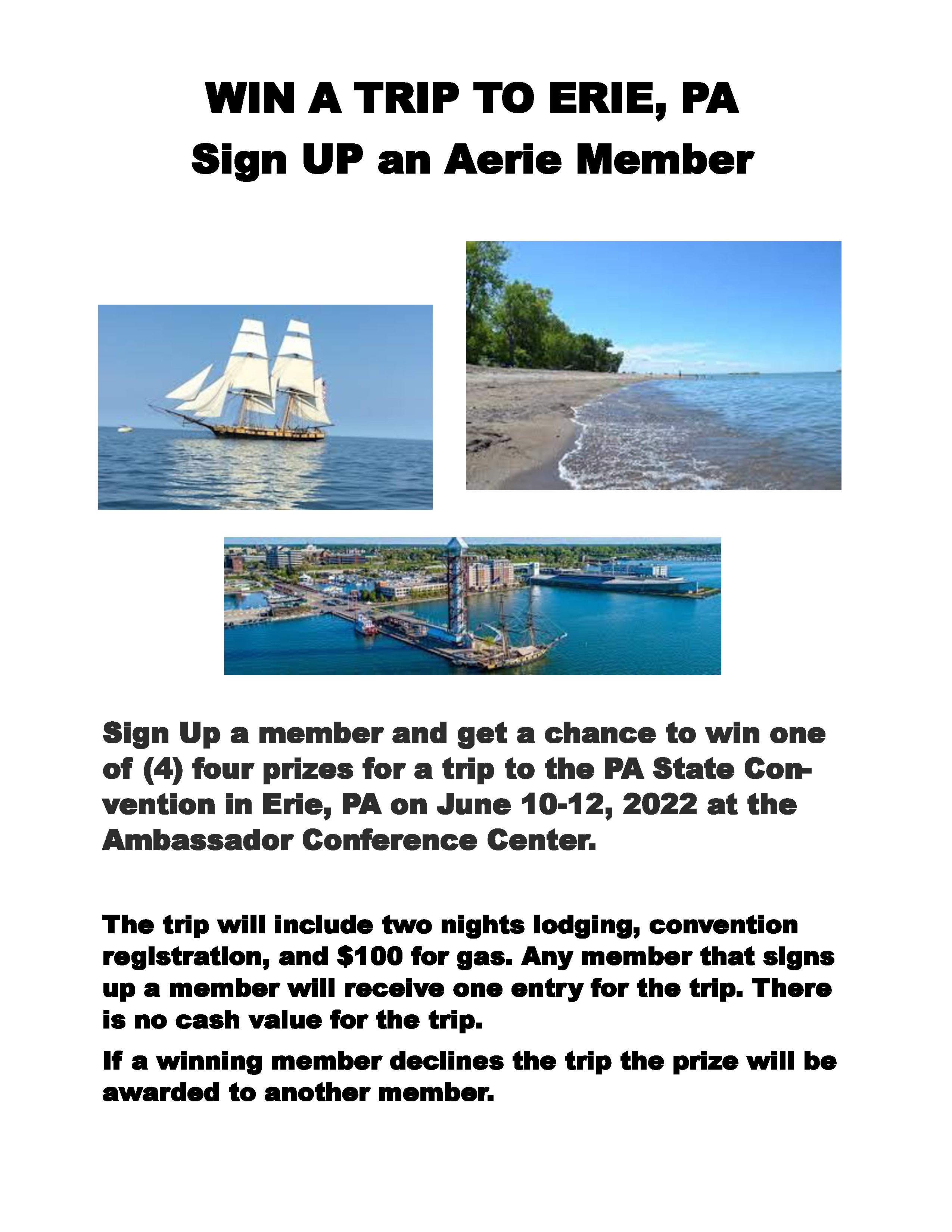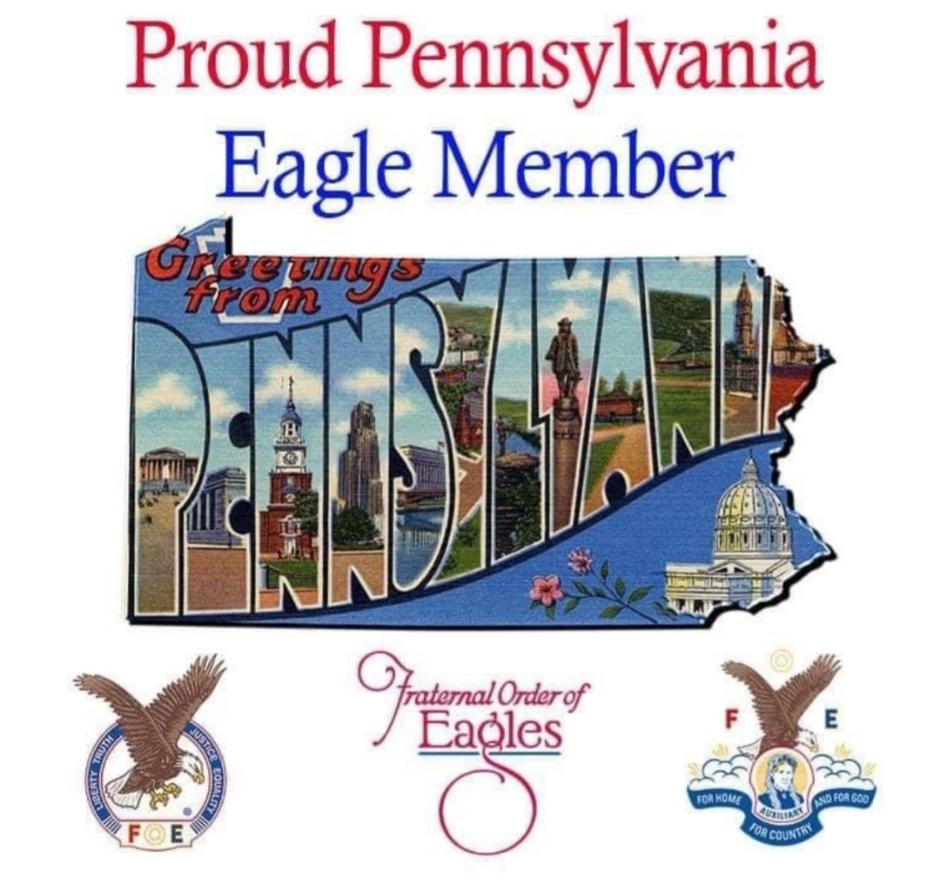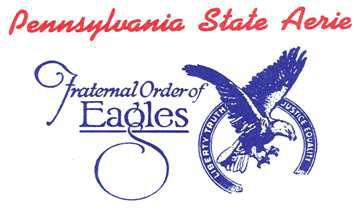 2021 - 2022 OFFICERS
C. MICHAEL CLEPPER

Jr. Past State President
Carlisle

Aerie #1299
JEREMY FRITS
State President
Sunbury

Aerie #503
CLINTON SLIMA
State Vice President

New Brighton
Aerie #1342
DWAINE SHUPE
State Secretary
Blairsville

Aerie #1488
TED MINICH
State Treasurer
New Bethlehem
Aerie #1860
JOSEPH BARGELLA
State Trustee, 5th Year
Nanticoke

Aerie #834
RAY ROBERTS
State Trustee, 4th Year
Carrick

Aerie #1520
ERIC HOOVER
State Trustee, 3rd Year
Williamsport
Aerie # 970
MICHAEL DELIO
State Trustee, 2nd Year
Falls Creek

Aerie #965
PATRICK LAUGHMAN
State Trustee, 1st Year

Hanover

Aerie #1406
H. BUTCH SMITH JR.
State Chaplain
Grove City

Aerie #1895
JOEL FROWNFELTER
State Conductor

Carlisle

Aerie #1299
MIKE WHITE
State Inside Guard
Falls Creek
Aerie #965
ERIC DAVIS
State Outside Guard
Ocean View
Aerie #4528
MARK BARR
State Membership Director
Carlisle
Aerie #1299
ROBERT P. WAHLS
Advisor to the State President
Carlisle
Aerie #1299
STATE AERIE
State Auxiliary
SPECIAL INFO
-------------------------
State Bowling Tournament
Results
-----------------------
65th ANNUAL-AI T. Williams Memorial PENNSYLVANIA STATE GOLF TOURNAMENT
SEPTEMBER 17, 2022
HOSTED BY FORD CITY AERIE #606
Registration and info click here
-----------------------
IF YOU'D LIKE A COPY OF THE COVID-19
VACCINE
FLYER
---------------------------------------
KEEP IN YOUR THOUGHTS & PRAYERS
(We hope you keep all your brother & sister eagles in your prayers but those listed could use a little extra push!)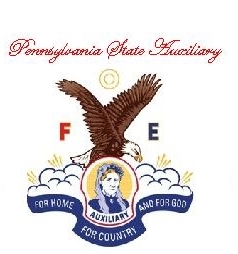 2021 - 2022 OFFICERS
Patricia Rodriguez

JR. PMSP
New Kensington
Auxiliary #533
Judy Laughman

State President
Hanover

Auxiliary #1406
Jeannie Tressler
State Secretary
Connelsville
Auxiliary #493
Genie Lutseo
State Treasurer
Bethlehem

Auxiliary #284
BETTY LOU KALIN

State Vice President

Kutztown

Auxiliary #839
JENNIFER FASER

State Trustee
TONY ANGELO

Auxiliary #1188
PATRICIA MALONE

State Trustee
Warren

Auxiliary #313
REBECCA DELIO

State Trustee

Falls Creek

Auxiliary #965
TAMMY FISHER
State Trustee

Carlisle
Auxiliary #1299
ANGEL BAYSINGER
State Chaplain
Connelsville
Auxiliary #493
Tonya Bumbaugh
State Conductor
Carlisle
Auxiliary #1299
Charrise Clark

State Inside Guard

Blairsville

Auxiliary #1488
Tammy Hadden

State Outside Guard

Bethlehem

Auxiliary #284
Laura Baysinger

State Membership Chairman
Connelsville
Auxiliary #493